WHC Calendar
Keep an eye on our calendar to learn about upcoming events and classes at the Willamette Heritage Center.
Jan
20
Fri
2017
Exhibit: Nature and Community

@ Changing Exhibit Gallery
Nature and Community: Heritage Invitational Exhibit
Fri. January 20, 2017 – Sat. May 15, 2017
The Mid-Willamette Valley possesses myriad complex ecological systems and natural characteristics.  Water, soil, forests, wildlife and minerals have shaped the economies, settlement patterns, leisure activities, and identities of the communities in the region.  Humans in the valley have also been shaping the natural landscape to meet their needs and ideals since time immemorial.  Native agriculture and burning practices sculpted the valley's iconic oak savanna, power development and flood controls in our cities have dammed and shaped our waterways, and the current trend in urbanization is transforming agricultural regions into cityscapes.  This exhibit and subsequent programming will look at the relationship between humans and their natural environment in the Mid-Willamette Valley.
This exhibit is included in regular admission to the Willamette Heritage Center. It is free for WHC Members and members of participating organizations.
Jun
2
Fri
2017
Exhibit – Yesterdayland: Innovations of the Past

@ Changing Exhibit Gallery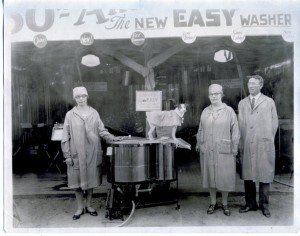 Technological advancements in last 50 years have exceeded even the big imagination of Walt Disney when he envisioned his Tommorrowland® and what the future would bring.  Through this exhibit we'll look back at the earthshattering, daily life altering innovations of the early 20th century and how these machines influenced our community.