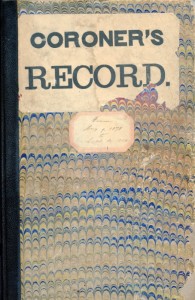 Coroner's Record (WHC 2015.040.0001) contains handwritten notes from the Marion County Coroner about deaths attended in Marion County from 1878-1886.
About
This record book was part of the collection of the late Judge L.H. McMahan.  It contains hand written entries made by the Marion County (Oregon) Coroner of different deaths they attended including names of jurors called and testimony gathered from witnesses.
Excerpt from first entry
Salem, Aug. 9, 1878. About 5 o'clock p.m. on the 8th day of August 1878, the undersigned, Coroner of the County of Marion, was informed that a man boarding at the Bennett House in Salem, had sudenly [sic] died, and I caused the following named citizens of Marion County be summoned as jurors: D.D. Orton, Geo. P. Litchfield, H.W. Pallies, W.P. Keady, A.E. Folkner and E.O Norton, who were sworn according to law.

The first witness called was Joseph Bartolet, proprietor of the Bennett House, wherein the man died, who said: "I first heard some one screaming or calling for assistance, and came to this room and found this man suffering great pain, and said he had taken arsenic and wanted a doctor. I went after Dr. Carpenter, but he was not at his office and then called Dr. Chase, and he came to this room. The man said he had taken arsenix. [sic] I do not know his name, but there is a boarder here who does. He has been here about seven days. He paid his board up to last Monday. He has been sick with chills and fever. He has no money. A short time after my return he died."