Oral Histories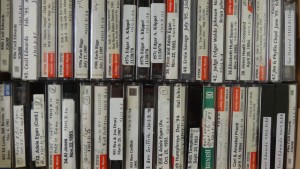 The Willamette Heritage Center has a large and growing oral history collection, rooted in the collections of stories recorded by its parent organizations – the Marion County Historical Society and the Mission Mill Museum.  We are still processing many of the collections, which were created on now outdated media like reel-to-reel and vhs tapes.
Oral History Projects
Voices of the Valley.  Contains stories of individuals who lived and worked in the Mid-Willamette Valley.  This is a growing collection that is meant to represent the diversity of experiences lived in this region.  You can explore more of this collection here.
Thomas Kay Woolen Mill Workers Interviews.  Collection of interviews conducted beginning in the late 1970s with former employees of the Thomas Kay Woolen Mill.  Explore more of this collection here.
Gerry Frank: Memories of Life and Work in Salem and Beyond. 
Learn More About Our Collections
We don't have a searchable database of interviews completed quite yet, but you can browse a list of oral history interviews in our collection here.  Remember, not all materials will be immediately available as many interviews are still housed on outdated media.   You can also find digitized content on our YouTube channel.  Check back often for more content.
Film Archive
We are just starting to discover the depths of our film archive. We will post materials to his playlist as they are digitized.