The Grand Ronde's Canoe Journey
April 8 – May 30, 2011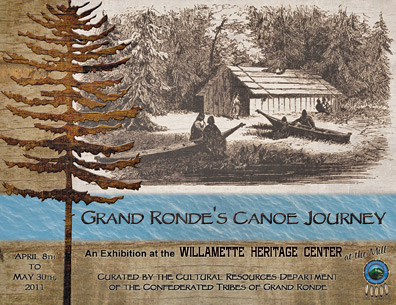 In the spring of 2011, the Willamette Heritage Center welcomed the Cultural Resources Department of the Confederated Tribes of Grand Ronde as they unveiled their special exhibition, Grand Ronde's Canoe Journey. The exhibition is curated by David Lewis, Manager, Cultural Resources Department, Confederated Tribes of Grand Ronde in collaboration with Willamette Heritage Center at The Mill.
This exhibition brought to life the cultural importance and heritage of the historic shovelnose canoes used by the Native Peoples to travel throughout the Willamette Valley. These canoes, perfect for the shallow Willamette River, were smaller and more agile than the larger, more familiar Chinook style-canoes that plied the Columbia. In the first section of the exhibition, the two oldest Kalapuya shovelnose canoes known to be in existence will be on display – one from Grand Ronde and the other from the Center's collection.
In addition to highlighting the types and technology of historic canoes, the exhibition explored how they were a central part of Native culture in what is now western Oregon. The exhibition moved from the historic canoes into a discussion of how the Grand Ronde community is rediscovering the art of canoe making. This is the Canoe Journey tradition, a recent cultural phenomenon among the Northwest Native People. Finally, for the first time in living memory, Grand Ronde community members came to the Center to create a Kalapuya Shovelnose Canoe in the historically accurate style. This new construction was visible to visitors and offered the opportunity to chat with the canoe builders and watch the progress of the canoe, both in person and online via the Center's website.
This Exhibition was presented by the Confederated Tribe of Grand Ronde along with a donation from Bill and Judy Meier. The Canoe Recreation was made possible in part by a grant from Oregon Humanities (OH), a statewide nonprofit organization and an independent affiliate of the National Endowment for the Humanities, which funds OH's grant program. Contributing In-Kind Sponsorship also provided by Interpretive Exhibits, Inc.