Willamette Heritage Center Permanent Exhibits
The Willamette Heritage Center cares for three of the oldest frame houses still standing in the Pacific Northwest. The Lee House and the Methodist Parsonage were built in 1841 to house members of the Methodist Mission to Oregon (1834-1844).
The Boon House was the residence built by Oregon Trail travelers John D. and Martha Hawkins Boon and family in 1847. Today the houses host a variety of exhibits from period rooms to hands-on galleries that look at the lives and livelihoods of Mid-Willamette Valley residents of the past.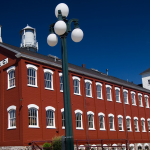 The Thomas Kay Woolen Mill, founded in 1889 by Thomas Lister Kay, was one of numerous textile mills that operated throughout the Valley. These textile mills were critical components in Oregon's economic stability. The Mill produced fine woolen blankets and fabric for more than seventy years and was managed by four generations of the Kay family – a legacy still perpetuated at the world-renowned Pendleton Woolen Mills, owned and operated by Kay's descendants. The Mill closed in 1962 and was subsequently purchased by the Mission Mill Museum Association, a private, non-profit organization formed in 1964. It is the only woolen mill museum west of Missouri and has one of the few water powered turbines in the Pacific Northwest that is still capable of generating electricity from the millrace. Displays of the original 19th and 20th century machinery illustrate industrial wool processing, and images throughout the Mill capture the stories of the lives of the individuals and families who worked at the Mill since its founding.