The Willamette Heritage Center is hopping with activity all year long and it takes volunteers like you to make it happen! Do you like history? Do you like meeting new people and telling them intriguing stories about our past? Are you interested in helping kids learn through hands-on activities and tours of the museum? Would you like to improve your public speaking skills? Do you enjoy researching history? Can you use a computer and do data entry? Are you able to give a couple of hours each week to share and preserve our heritage? If so, consider volunteering at the Willamette Heritage Center.
Become a Volunteer or Intern Today!
Mail completed Form to:

Volunteers-Internship
Willamette Heritage Center
1313 Mill St SE Suite 200
Salem, OR 97301
You can APPLY ONLINE now by scrolling to the bottom of this page and using form provided there.

Training is provided for all areas of volunteer service at the Willamette Heritage Center.  
To find out more, contact our Education and Volunteer Coordinator Erica Osorio at 503-585-7012  (Ext. 254) or e-mail ericao@willametteheritage.org
Upcoming Training Opportunities
Mill Docent Training
Date: Four consecutive mondays beginning January 14, 2019 – February 4, 2019.  Must be available to attend all 4 sessions (or schedule a make-up with Staff.
Time: 1 – 2:30 pm
RSVP:  Erica Osorio, Education and Volunteer Coordinator, ericao@willametteheritage.org.  503-585-7012.
Upcoming Volunteer Trainings and Events are constantly changing so remember to check back.
Be a Magic Volunteer this December!
Mark your calendar – the Magic happens Dec. 19-23, 2018 from 5:30-8:00 PM. Magic at the Mill is Willamette Heritage Center's largest community event, with live music, vendors, children's activities, craft demonstrations, house and mill tours, living history, Santa, model trains, and thousands of lights all over the grounds. More than 6,500 visitors were hosted by WHC volunteers last year. Please consider being part of this annual holiday celebration!
To volunteer, please complete the form here or download the PDF and send or drop off completed form to: Willamette Heritage Center, 1313 Mill St. SE Suite 200, Salem OR 97301 or contact Erica Osorio at 503-585-7012 ext. 254, or email: ericao@willametteheritage.org
Can't Volunteer? Consider donating snacks or handwarmers (or money for these items) for volunteers – email or call us at the contact info above and we'll tell you how.
THANK YOU!
Translate the past into the present through tours, demonstrations and education. Join our elite tour guide group and lead visitors through the museum. Guide groups from school age to seniors. Docents can set their own schedule. Training provided. This is your chance to help our visitors learn about Salem's history – and have fun doing it!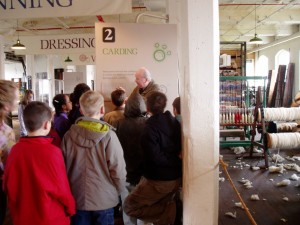 Duties:
Learn history of the museum site
Guide visitors (all ages) through museum exhibits
Training:
4 Hour Docent Training Course
Study of Docent Handbook
Shadow three docent led tours
Practice Tour with museum staff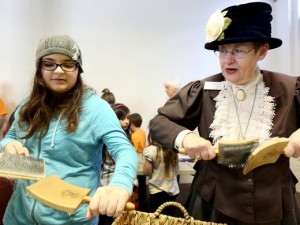 Duties:
Lead students hour-long activity exploring through artifacts and hands-on activities in a classroom setting:
Fiber to Fabric
Archaeology
Finding Oregon
Kalapuya
Young Pioneers
Pioneer World
Waterworks
Training:
Class curriculum is provided.  New activity leaders will shadow experienced leaders or staff and will lead activity observed by staff member.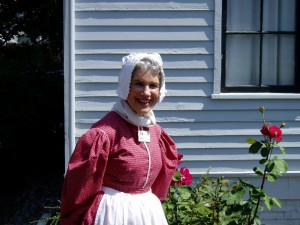 Duties: Engage students through first or third person living history demonstrations.  Living History Leaders dress in period costume and either converse with students about "their" lives as an historical figure or engage them in a period-appropriate craft or task.
Training:
Living History Leaders research their historic figure or activity.  The WHC has a library of materials available for research
Periodic workshops are available for those interested in honing their skills
Period dress and artifacts are provided for use in programs
Shadowing opportunities available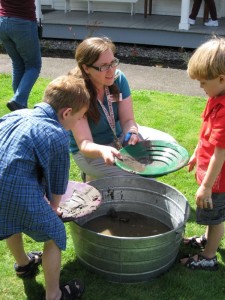 Duties: Connect students with the past through guided activity stations in the museum (programs last about 15 minutes).  Leaders might:
Connect students with historical letters and writing styles
Introduce 1840s fashions by challenging them to dress two kids for the Oregon Trail
Experience baskets through touch and trying weaving.
Training:
Curriculum provided.  Leaders will shadow experienced leaders and complete one trial activity with staff member present.
Visitor Services Volunteers: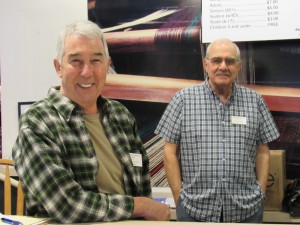 Welcome volunteers to the site, provide directions at the museum and around the city.  A great way to connect with our community and the wonderful history on site.
Archives and Collections Volunteers: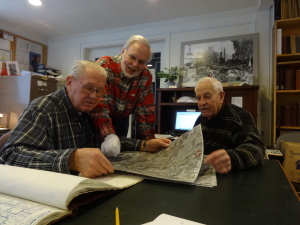 Help in the archives and collections area with research, preservation, indexing, data entry, filing, and scanning photographs and slides.
Help staff our research library by assisting patrons with research in family history, historic homes and property, and local history.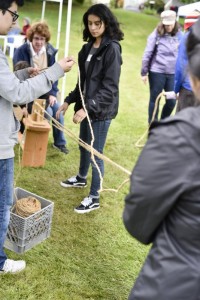 These short-term volunteer opportunities make a big difference.  Help out at one of the museum's special events.  Check the calendar below for the next special event!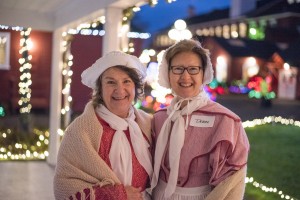 Our volunteer internships are varied and flexible, and many college majors can be enhanced by spending time at the Willamette Heritage Center. For starters, we offer internships in research/writing, archives/artifacts, marketing, education and hospitality. Hours and exact duties will be adjusted to suit a student's needs. Drama, marketing and business, English, education, history, archaeology, and even botany majors can find an internship here!