December 19th – 23rd, 5:30-8:00 p.m.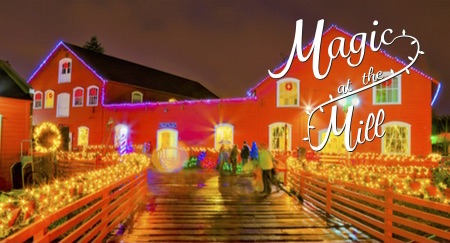 First held in 2000, our annual holiday lights display brings all the magic of the season to downtown Salem..
Come take part in Children's activities, miniature trains, tours of our historic buildings, blacksmith demonstrations, seasonal food and drink, Santa Claus (if you've been good!), and, of course, lots and lots of holiday lights.
Magic at the Mill gives families from the Mid-Willamette Valley the opportunity to enjoy the beauty and wonder of our remarkable site.
General Admission: $6.00

Ages 4-12: $4.00

Ages 3 and under: 

FREE
Make Victorian-era silhouettes
Craft paper puppets
Create Bilboquets (cup and ball toys)
Make "Reindeer food"
Textile weaving (in partnership with Salem Fiberarts Guild)
Scavenger hunt for Miss Milly's Lost Lambs
Blacksmithing
Weaving and Lacemaking
Spinning fiber into threads
Tours Open (Docent-led and Interpretation)
1841 Jason Lee House
1841 Methodist Parsonage
1847 John Boon House
1858 Pleasant Grove Church
1895 Thomas Kay Woolen Mill
Stay tuned for 2016 attractions!
Local vendors
Bella Hill
Teaselwick Wools
Compass Gallery
And More!
Handmade and vintage gifts
Woven Scarves, Towels, and other Textiles
Plush toys, Pin-back buttons, and Magnets
Ornaments and Vintage items
Soap, lotions, Teas; Hand-made Wooden Products
Jewelry, Coffee, and Handbags
Hand-made Alpaca Hats
Baked Goods (including gluten-free)