Hidden Gems: A Mid-Valley Heritage Invitational Extravaganza!
January – March 2011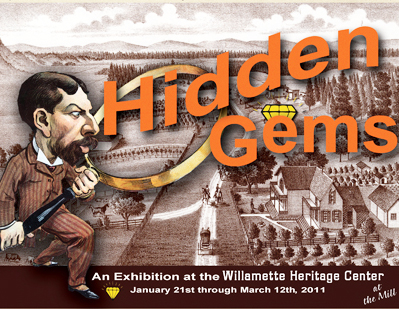 This exhibition gave 18 Mid-Valley heritage, cultural and history organizations the opportunity to bring their most unique, interesting and/or important treasures together in one show! Throughout the exhibition's run, visitors were able to take a walk through history as they viewed a wide array of local, regional and nationally important objects. Hidden Gems encouraged the preservation and appreciation of our local organizations that do so much every day to foster understanding and enjoyment of our community's heritage.
The following organizations from Marion, Polk and Yamhill Counties participated: Antique Powerland Museum Association, Aurora Colony Historical Society, Bush House Museum, Confederated Tribes of Grand Ronde, Forest History Center, Frank Lloyd Wright Gordon House, Historic Deepwood Estate, Hoover-Minthorn House, Jensen Arctic Museum, Keizer Heritage Museum, Linfield Anthropology Museum, Oregon Northwest Black Pioneers, Oregon State Hospital Museum, Settlemier House, Silverton Country Historical Museum, St. Paul Mission Historical Society, Willamette University Archives, and Yamhill County Historical Society.